DSD stands for Direct Stream Digital and it is a high-definition lossless audio format with a twist. PCM signal solutions (like FLAC, TTA or APE) measure a set of bits multiple times per second to capture the audio data, hence the 16/24-bit parameter. On the other hand, DSD uses only one bit but samples it 2.8 million times a second to capture the audio signal.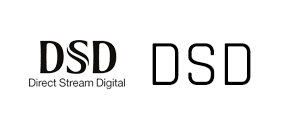 What's so good about DSD?
It is a completely different approach to capture and store high-definition audio than the other, more widely used consumer formats.It is a bit harder to compare these formats, not to mention the real difference is only heard by using really high-end audio gear. However, many say that most records have a more natural, warmer tone when played from a DSD source.
Is it popular?
To some extent, yes – mainly among audiophiles, so to speak. OSX (now macOS) does not offer built-in DSD playback possibility, although there are various audio players to choose from.
How to play DSD on Mac?
A fresh install of macOS currently does not have a convenient way of playing such files, as DSD/DSF files need special decoding hardware or a software signal processing solution to render the audio stream. A good DSD player for the Mac is one of those audio apps that support DoP (DSD over PCM) stream packing along RAW and Native modes – which brings us to…
Colibri – Native Lossless Audio & Music for your Mac

Colibri is a DSD player for Mac (among other things) that represents a simple playback solution while hiding the required complex machinery under the hood. A Mac DSD audio and music player with Native DoP/RAW data sending methods that supports gapless playback with or without a Cue Sheet. Bit-perfect audio playback, accurate stereo-balance. If the song contains an embedded cover art then Colibri will happily display it as well – visit the Gallery to see more.

Get Colibri from the Mac AppStore or visit the FAQ if you have any further questions.